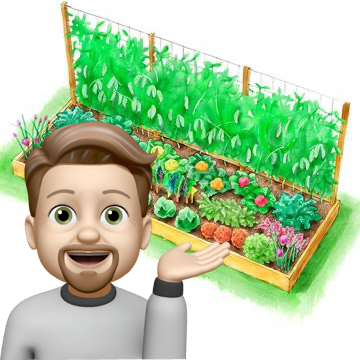 My role at Farmers Business Network has given me the opportunity to work with multiple growers in the mid-south that have implemented cover crops into their farming practices and their results have been quite impressive. Since my raised beds were completely new this past season I have several issues to contend with during the off-season to get everything ready for next season. My primary issue has been settling of the soil, especially in my large beds, so immediately after harvest this past summer I added a considerable amount of compost to these beds to raise my soil levels, I've also added a fair amount of fresh chicken manure that will break down over the winter months.
What is a Cover Crop?
A cover crop consists of plants that are seeded or started in the early fall. The general idea is that you should have a plant that's going to be hearty during these off-season months and as far into winter as possible (depending on your zone, I'm in zone 7). Essentially, the cover crop you plant will function to add biomass back to your soil and can also act as a natural weed barrier if needed. The end benefit of planting a cover crop is that it will keep your soil from becoming depleted of nutrients. I had a good friend, who's a top producer on a large scale, tell me that nature hates bare soil and that you should always have some sort of crop rotation going at all times.
Selecting a Cover Crop…
This is going to depend on a couple of factors. I guess the first being what zone you are in and what cover crops will perform well in your area. Most cover crops fall into either one of two categories, Legumes or Non-Legumes. As a rule, Legumes will give you faster results by raising your nitrogen levels. Non-Legumes will have a longer term impact in most cases. There are also other benefits from cover crops aside from soil enrichment, for example Daikon radishes can help to loosen or break up your soil if it's packed and in need of aeration. Mustard, which is one of my favorites, can help to discourage nematodes.
Turnip Greens + African Mustard
I decided to go w/ Turnip Greens and African Mustard this season. My main reason for picking this combination was because I knew that I could get at least one or two harvests of the leaves. I think that "turnip greens & pot liquor" are probably a southern delicacy, but if you've never tried them –you are missing out. I chose a variety of turnip greens that didn't actually make a turnip, instead it just produced leafy material above the ground. The African Mustard seeds were my second choice and in comparison to the Turnip Greens they had a sharper flavor. When mixed together they tasted great!
Hard Freeze
We had an early hard freeze this winter and as a result everything pretty much died back. I was faced w/ two options, I could replant the greens and establish another crop or I could leave the beds unplanted and focus on adding some rich compost and raising soil levels in preparation for next spring / summer growing season. I opted for the latter. I'm currently in the process of adding a healthy mix of compost plus safe levels of chicken litter from my backyard chicken coop.
[ngg src="galleries" ids="14″ display="basic_thumbnail" thumbnail_crop="0″]