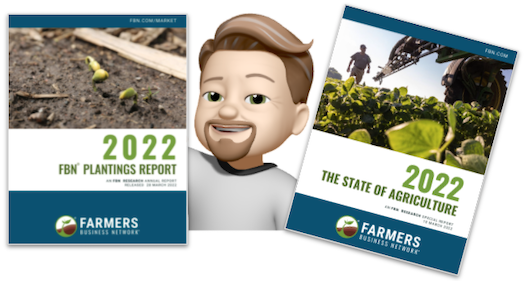 FBN's 2022 Acreage Report
USDA's March Acreage Report yet again caught the market by surprise. Actual estimates from the government came in at a big drop in corn acres (89.5 million acres vs the average analyst guess of 92.0 million acres), while soybeans surprised to the upside (91.0 vs trade guesses at 88.9). Likewise, spring wheat acres were smaller than expected at 11.2 vs 11.8 by the trade. FBN's own acreage survey was directionally correct versus the trade, as we suggested corn acres would be lower than trade guesses, beans higher, and spring wheat lower. FBN is the ONLY analyst that puts out forecasts of state level acreage ahead of USDA, and our forecasts for 3 of the 4 top corn/soy states were nearly identical to USDA. This is the 2nd year in a row we have stood out among the other analysts and helped our farmers ahead of one of the biggest market days of the year. This is why I always promote the acreage surveys when our team does them. This valuable insight ahead of the USDA report equips our members w/ valuable insight to help them make decisions.
FBN's 2022 State of Agriculture Report
2022 is already shaping up to cast even more unpredictability into agricultural markets than any year in recent memory. In this economic outlook report, Chief Economist, Kevin McNew and his team of agricultural economists dig into the many variables influencing agricultural markets and will paint a clearer picture.