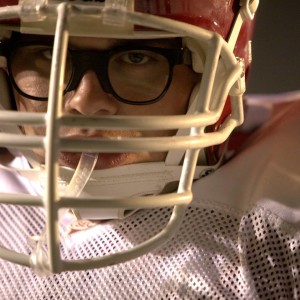 I got news earlier today that the movie release has been pushed back, but not for bad reasons (even though it's a little discouraging at first thought), but for good reasons. For this reason I shared the definition of the word "patience" today on Facebook because I know a lot of you are going to be upset by the news.
Yeah, we are all anxious for everyone to see this movie, but given the nature of how movies are released a great film can be released in a flood of other great films and it might not have the impact that it would have had if it was timed better.
This move allows the family football drama chronicling the remarkable and inspiring life of the late Razorback All-American, Brandon Burlsworth, to open in more theaters and bigger audiences.
This press release was just loaded on the 'GREATER' website:
Overwhelmingly positive response from screening audiences and the desire of national theater chains to show it in more locations has necessitated a delay in the release of GREATER.

The family football film, initially scheduled for release Jan. 29, will now hit theaters later this summer.

"The demand for GREATER was even larger than we'd hoped for and there isn't enough supply of screens in the market right now to support that demand," film distributor Chris Hammond explained. "GREATER is about a young man who had to work hard and adapt to get a place in the lineup, and then went on to become an All-American. It seems fitting that the film itself is following a similar path."

"We know people are excited to see our movie. We've gotten such a positive response from screening audiences, churches, and theater owners that we feel like we would be doing the movie (and the Burlsworth family) a disservice by not waiting and releasing it when more screens are available," writer/producer Brian Reindl said. "We hope our friends and fans who have eagerly anticipated the release will be patient and help us continue to spread the word about the film. I promise it will be worth the wait!"

"With movies like STAR WARS still taking up a lot of screens, we are in total agreement with the producer and distributor to wait a few months to ensure as many people as possible can see Brandon's story," said Marty Burlsworth, Brandon's brother. "Plus, the additional time will allow the producer and distributor to take advantage of some new partnerships which they will be announcing in the near future."

GREATER chronicles the unlikely career of Brandon Burlsworth (played by newcomer Christopher Severio), regarded as the greatest walk-on (i.e., non-scholarship player) in the history of college football. Known for his distinctive black horn-rimmed glasses, the small-town Burlsworth always dreamed of playing for the Arkansas Razorbacks, but wasn't considered good enough to play Division I football.

Hammond Entertainment LLC presents a Greater Productions, LLC production. GREATER is produced by Brian Reindl and directed by David Hunt from a script written by Brian Reindl and David Hunt. Neal McDonough and Brian Reindl serve as Executive Producers. The film stars Chris Severio, Neal McDonough (ARROW, MINORITY REPORT, BAND OF BROTHERS) Leslie Easterbrook (the POLICE ACADEMY franchise), Michael Parks (ARGO) and Nick Searcy (JUSTIFIED).
In closing, the more that I've had to think about this the more positive I am that this film is going to have the impact that everyone involved wants it to have. If this means that one more person can be impacted from the film, it's served it's purpose!
Hang in there friends.